The Dream Riders are young Asian Americans, Latinos, and African Americans; many of whom are undocumented, DACA recipients, or come from hard working low-income families. They live in all parts of the country, including Arizona, California, Pennsylvania, Illinois, Virginia, and Texas.
Bo Daraphant – Los Angeles, California
David Han – Los Angeles, California
Ixchel Hernandez – Los Angeles, California
Jenny Hong – Philadelphia, Pennsylvania
Victor Huynh – Annandale, Virginia
Clara Kim – La Crescenta, California
Max Kim – Annandale, Virginia
Jose Montes – Compton, California
Saba Nafees – Fort Worth, Texas
Leticia Velez – Los Angeles, California
Alease Wilson – Los Angeles, California
Ellie Wingfield – Los Angeles, California
Jae Yang – Tucson, Arizona
---
---
---
---
---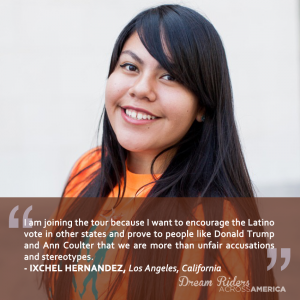 Ixchel is a DACA recipient and one of the members of Children Over Politics. Raised in a family of four, she grew up watching the people she loved get treated unfairly because of their legal status. Like many of her friends and classmates, Ixchel dreamed of achieving the "American Dream," but too often, this has not been attainable for immigrants and people of color.
---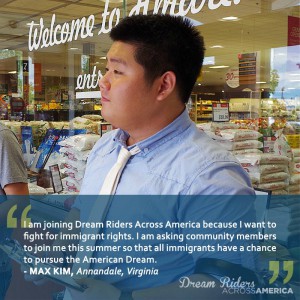 Max is a rising senior at Annandale High School in Annandale, Virginia and came to the U.S. when he was five years old. He dreams of one day becoming an entrepreneur in graphic design. He will be joining the Dream Riders bus tour this summer to fight for immigrant rights!
---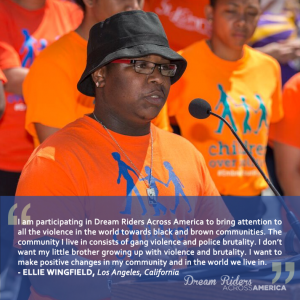 Ellie is a 20-year-old African American youth leader from Kids Over Politics and the proud son of a Local 99 cafeteria worker. He is going on the Dream Riders bus tour this summer to raise awareness about the violence inflicted upon communities of color.
---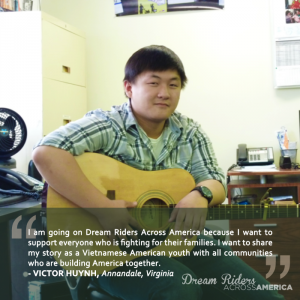 Victor is 17 years old and attends Annandale High School in Virginia. He is joining Dream Riders Across America because he wants to fight for families who want to stay together. His father came to the U.S. by boat as a refugee from Vietnam. His father's search of a better life and future is an experience shared by many who immigrate to the U.S. Now Victor wants to share his experiences and those of immigrant families by being part of this bus tour.
---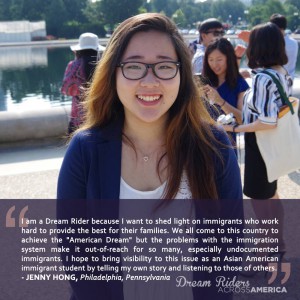 Jenny Hong, a rising senior at Central High School in Philadelphia. Jenny was born in South Korea, but came to the U.S. when she was 6 months old. She is currently a DACA recipient with parents who are eligible for DAPA. She is joining 12 other Dream Riders on this important trip for building youth power and achieving social change.
---
Alease is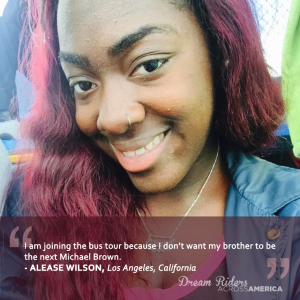 19 years old and a founding member of Children Over Politics. She has a younger brother and sister and is the proud daughter of a security officer who is a union member of SEIU-USWW. Currently, she lives in a community where racial profiling happens on a daily basis. By lifting her voice, she hopes to address the injustices happening in her community, particularly violence against black and brown communities.
Please leave your messages of support in the comments below!
Meet the Dream Riders
Updated on 2018-03-28T16:24:11-07:00, by nakasec.